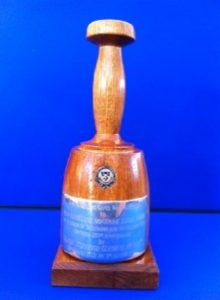 Over the years a strong bond has existed between Lodge New Monkland Montrose No. 88 and Lodge Coltswood Glenboig, this was no more apparent when the Lodge was presented with a commemorative mirror by the late Albert Dalziel and the Brethren of Lodge 88 during our Centenary in 2008. 
During 2012, Lodge 88 celebrate their 250th anniversary and to return the very kind sentiments the brethren of Lodge Coltswood set about coming up with an unique idea to repay this kind gesture. This was a difficult task due to Lodge 88 not having their own  premises to display a gift as they share the temple with The Operative Lodge of Airdrie No. 203.
The brethren having discussed the dilemma proposed the idea of having a travelling mallet that would in the first instance be presented to Lodge 88 in their anniversary year but could be claimed by any Lodge in the Airdrie & Coatbridge district by taking along an unofficial deputation of above 25 brethren to the Lodge that holds the mallet, this deputation would entitle them to lay claim and retain the mallet until another deputation visited this Lodge and claimed it under the same circumstances.

Airdrie & Coatbridge Freemasons
The "Lodge New Monkland Montrose No. 88" Travelling Mallet

 


Rules of Ownership and "Capture"
 
Based on this theory the following rules have been proposed as the terms of ownership of the mallet.
The travelling mallet was presented to Lodge New Monkland Montrose No. 88 on Saturday ???? May to celebrate their 250th anniversary by the Brethren of Lodge Coltswood Glenboig No. 1067, the mallet was manufactured by Past Master Bill Lang of Lodge  St. Andrews No. 544 and presented as a gift to Lodge Coltswood, the main purpose of the mallet is to reward the inter-visitations of the Lodge's is the Airdrie and Coatbridge area and enhance the visitations between Lodges.The following rules have been established to help the participation run smoothly.
1. The "Season" for capture of the mallet is between 1st September and 30th June annually (inclusive)
2. Only Lodge's within the Airdrie & Coatbridge district will participate, for the avoidance of doubt these Lodges are listed below –
New Monkland Montrose No. 88
Airdrie St. John No. 166
Old Monkland St. James No. 177
The Operative Lodge of Airdrie No. 203
St. Andrew No. 544
Whifflet St. John No. 963
Coltswood Glenboig No. 1067
Griffin Gartcosh No. 1254
Caldercruix St. John No. 1314
Heatheryknowe No.1461
Fluer De Lys No.1722
2. The deputations must be of an un-official nature and not under invite to confer a degree or special meeting.
3. The deputation should be headed by members of the visiting Lodge claiming ownership and can include visitors from other Lodge's from within or out with the Province, providing these visitors are invited to attend and not drafted from the natural visitors to the Lodge on that evening.
4. Each member of the visiting deputation claiming the mallet shall contribute 50p each to a "Kitty" that will be held by the Right Worshipful Master and transferred between the Lodges who claim the mallet over the "Season". it will be the responsibility of the Right Worshipful Master to ensure the safekeeping of the "Kitty" 
5. The deputation must be admitted by the Tyler after the official visiting Lodge has been welcomed, if applicable. On entering the Lodge room they must also declare to the Right Worshipful Master that they intend to claim ownership of the mallet.
6. Any deputation in the group of participating Lodges over 25 in number will be presented with the mallet for safe keeping until another deputation claims ownership. Should more than one deputation of over 25 brethren attend on the same evening the deputation with the largest numbers will lay claim to the mallet. 
7. The Lodge in ownership should display the mallet on the dais at all regular meetings from that point forward.
8. The Secretary of the Lodge receiving the mallet should inform the Secretary of Lodge New Monkland Montrose No. 88 that they are now in ownership of the mallet along with the numbers in the deputation and date that they claimed it.
9. The current and previous owners including the deputation numbers will be published on the Lodge Coltswood Glenboig No. 1067 website.
10. The holder of the mallet at the end of the "Season" shall nominate their chosen charity whether Masonic or Non-Masonic for the accumulated funds.
11. The Travelling mallet is intended to promote good hearted rivalry amongst the Lodges in the Airdrie & Coatbridge area and enhance the numbers at the regular meetings, and as a bonus raise donations for Charities